Craigslist John Deere Tractors For Sale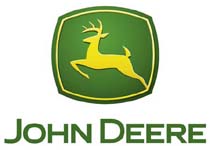 ABOUT JOHN DEERE: History & Products
Despite what some farmers think, John Deere is second in tractor production to Mahindra. However John Deere is without a doubt the largest and most well-known tractor brand in the United States, if not the world. On top of simply making heavy farming equipment and lawn tractors, John Deere has a footprint in six (6) unique industry segments as well as significant market share in the Engines and Drivetrain sector. The key areas that John Deere produces tractors for are as follows.
Agriculture: (Farming Tractors, Harvesters, Cutters, Shredders and Scrapers)
Residential: (Lawn Mowers, Riding Mowers, Garden Tractors, Utility Vehicles)
Golf & Sports: (Specialty Mowers and Equipment, Turf Vehicles, Bunker Rakes)
Commerical: (Front & Wide Area Mowers, Cleanup Solutions, Worksite)
Construction: (Dump Trucks, Loaders, Dozers, Excavators, Graders, etc.)
Forestry: (Bunchers, Forwarders, Skidders, Swing Machines)
John Deere Tractor Model Categories
Displayed below is the major model categories of John Deere farming, lawn and garden tractors. Please contact us for pricing details and specs.
Farming Tractors
Four Wheel Drive Tractors
Row-Crop Tractors
John Deere Specialty
John Deere Track
John Deere Utility
Compact Tractors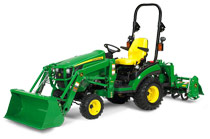 Subcompact Tractors
Lawn & Garden Mowers
Riding Lawn Mowers
Commerical Stand-On Mowers
John Deere Zero Turn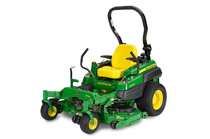 John Deere ZTrak
Front Garden Mowers
Wide Area Mowers
Walk Behind Lawn Mowers